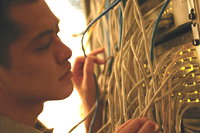 Do you Have more than one computer in your home that is having problems sharing printer and internet access?



Do you have multiple computers in your office that require sharing files and resources?



PCTech can network your home computers, office computer and servers to maximize your Return On Investments (ROI).



Proper network management ensures the best environment for your hardware and protects your assets in several ways: by utilizing office space efficiently, centralizing and securing expensive network devices, and maintaining clean, climate controlled conditions to extend the life of your investment.



A very important component of network management is the installation of a communications closet where the network equipment. (i.e. the firewall and switch) In addition, the communications closet keeps costly equipment secured from accidental or intentional damage and theft.



Additionally, securing the network cabling between devices is another essential component of reliable network functioning, furthermore ensuring data integrity. A broken or otherwise damaged cable, caused by improper placement, will cause data loss and data transfer latency over your network, in addition to decreased employee productivity.